The Classic Women's Slipper (Chestnut)
Style Note
The Classic slipper is crafted to bring you the outmost comfort and warmth during those frosty winter nights. Perfect for a cabin or cottage getaway or for a simple, relaxing night in.
The Classic slipper is designed with soft and luxurious 100% double face sheepskin. The bootie slipper comes with a foldable collar, which can be flipped up for a touch of style and warmth or down for added sheepskin detailing.
This item is available exclusively online.
Product Details
Nuknuuk EVA outsole, designed for indoor and outdoor.
Foldable sheepskin collar.
100% double face sheepskin upper.
100% sheepskin lining.
Approximate heel height: 1.90 cm
For half sizes, please order up one size.
Colour: Chestnut
The sheepskin lining of this slipper should initially provide a tight fit with your toes and forefoot feeling slightly confined.
The lining will pack down and mold to the shape of your foot to provide a comfortable, custom fit
Slight irregularities in colour and texture may occur due to variations in natural materials.
Customer Reviews
Write a Review
Ask a Question
09/10/2020
Lisa D.
Canada
Slippers
Quick delivery and a great product
09/04/2020
kelly Y.
Canada
Slippers for my Mom
I bought these slippers for my mom in December 2019. To this day, she continues to tell me how soft and comfortable they are. To be talking about her slippers during Covid? Well, that says a lot!! I cannot recommend them enough.... maybe I should get a pair
06/18/2020
Diana L.
Canada
Not true to size
I wish i give a better review, but the pair i recieved were to big. Other than that though the slippers were nice and comfortable! Seemed well made. I had to send them back and didn't try ordering the smaller size... Instead i shopped locally and spent about the same amount for a nice pair that are easily as comfortable!
We're so sorry to hear that the Classic slipper was too big. We hope that you choose to give our slippers another try in the future.
Comfy & Warm
PROS I've had these slippers for about a month and I am really enjoying them so far. I have poor circulation and my feet are always cold year-round; these slippers keep my toes warm even to the point where I occasionally have to kick them off cause my feet get too hot (I'd rather have it that way though). They provide a lot of cushion when standing on hard floors as well which I appreciate a lot. I can't speak of the longevity, but they do seem to be well made. SIZING They will be a little tight for the first week or so, but flatten down/expand quickly. I ordered my normal size. CONS I have found the heel area to be a bit big, I do however have a slightly more narrow heel. They do flop around a bit when I walk. It doesn't bother me too much, just something to note. I flip the ankle part up and it helps the slipper to stay on better and keeps my ankles warm too. If you do have narrow heels these might not be for you if you are looking for a snug fitting slipper. I don't believe sizing down would help because then the footbed would be too short. Overall would recommend!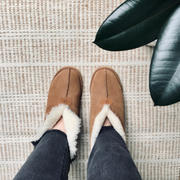 05/23/2020
Isobel P.
Canada
Very satisfied with purchase
Very happy with my purchase, 100% recommended.